We include an engagement session with every wedding package because we love the opportunity they afford us to spend time with and to get to know our clients before each wedding! We choose locations that are relevant and meaningful to people, and we literally laugh and play for the entire time. Being on the other side of a camera is SUPPOSED to be fun, and that's what we strive to do!
We've done an absolute pile of sessions lately and so this is one massive post to share something from each one. Terry & Preeti are getting married in Victoria next month, and we chose the site of their first date as the start of their engagement session. Between the Alibi Room and then a mini road trip up to the Cleveland Dam for the mountains and skies, these images were a tonne of fun to create. Their personalities truly shone through in each image we captured!
Wes & Sandy will be getting married next month and had one request for their engagement session – fields. Well, where else to find photo worthy fields but out past Mission? They were game so they hopped in our car and we headed out for a road trip photo session! Our amazing skies graced us once more for these images – they truly are spectacular. Thanks, guys, for trusting us that the perfect spot was just over another hill! We are looking forward to seeing you again next month.
Rob & Jill were featured just a few days ago for their Sooke Harbour House wedding. We headed out a few weeks ago for their engagement session along the seawall and at the beach, both places they've enjoyed spending time at. It was great to get to know them more before their wedding, and to get some great images at the same time.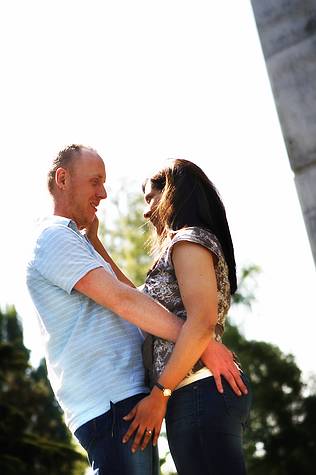 Sahar & Chris were also featured this week for their wedding on Saturday. A few weeks ago we took photos near their new home by UBC as they are right across the street from Pacific Spirit Park. I loved that we could walk out their door and right into the park, which is the perfect way to escape when needed! They look so happy together!
Jose & Kristin were married earlier this month as well and we headed out to Iona Park with them for something different. The park is so wonderful – quiet and secluded, and yet full of amazing photo opportunities! We almost had a disaster as we got back to the cars and realized a set of keys was missing, but despite how big the park was we found them right away, so we all did get to go home after all
Deanna & Jimmy are getting married in Ucluelet in September! Jimmy works in the skateboarding industry, so a skate park was the perfect start to their engagement session. Rumour has it that their wedding venue was also chosen based on its proximity to the local skate park, so even though it's a couple months away we are really excited about those getting ready photos with the guys! (unlike the gals who are busy with hair and makeup all morning, the guys tend to do anything but get ready 😉
Cheryl & Corey will be getting married this weekend. They travelled from their home in San Francisco recently for their engagement session with us here in Gastown. We had a lot of fun playing with the architecture, and ensured that their pictures reflect a little piece of Vancouver now that they live so far away and miss the city!
And, finally, Rebecca & Joey will be getting married later this summer and we were able to hook up with them this week. Joey lives in San Diego and doesn't come to Vancouver often, so we enjoyed finally getting to meet him. These guys were a blast! We had a lot of fun and are definitely looking forward to seeing them again for the wedding!